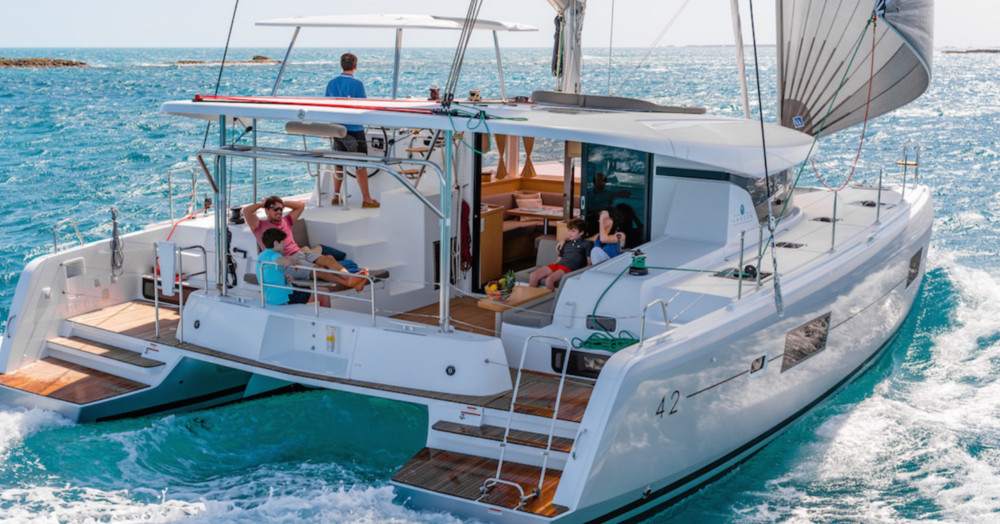 No Documents required by Greek authorities
For chartering a skippered sailing yacht or catamaran there is no need to be a sailing license holder. Your skipper on board is a professional and his sailing license is approved by Greek authorities, (please note that your skipper requires his own cabin and access to 1 of the heads on board).  
Though it would be useful one of your party to have some sailing experience.
Payment conditions
The first payment, 50% of the charter fee, is payable after booking confirmation. The balance payment (the remaining 50% of the charter fee) is to be paid 45 days before embarkation.
Skipper fee is payable on spot cash.
Cancelation policy
1 to 45 days prior to departure 100% of total charter price
46 to 90 days prior to departure   50% of total charter price
91 days or more prior to departure 200 euro dossier expenses
Charter fee includes
Yacht rental fees
Skipper fee
All taxes & VAT 12%
Yacht's equipment as per specification stated for each yacht type
Yacht's final cleaning
Outboard engine
Bed linen & towels
Charter fee does not include
Fuel & water consumption
Port Fees during the trip
Skipper's food
Transfers from or to the Yacht
Provisions/food /drinks
Embarkation is on Saturday afternoon at 17:00h
Return to base is Friday afternoon at 17.00h
Disembarkation is on Saturday morning at 09:00h
*if a short-term cruise to be agreed
Skipper's obligations
The Skipper is responsible for the navigation of the yacht, mooring, anchoring and maneuvering and for keeping the deck and cockpit of the yacht in good, clean and fully functional condition. Also for managing the refilling of water and fuel of the yacht and of the outboard engine and for processing port formalities, all on Charterer's expense. Other tasks such as interior cleaning, cooking, etc. are not part of Skipper's obligations. Charterer warrants that he or another member of his crew shall assist when necessary the Skipper with sailing / anchoring / berthing / mooring the yacht, by following the instructions and guidance given by the Skipper.
As required by Maritime Law and the rules of good seamanship worldwide, Charterer shall ensure that himself and all passengers aboard will at all times comply with all safety instructions as announced by the Skipper.
Yacht's Damage Deposit
All the yachts are insured against fire, marine and collision risks, third party liability and against any part or total loss or damage, in excess of the amount of the "security deposit" that every client leave at the departure base.
The Refundable Deposit Guarantee is  payable at the base prior to embarkation usually on a credit card (VISA or MasterCard), and is previewed to cover the occasion of damage/loss might be caused to the yacht and/or her equipment.
For skippered yachts Charterer assumes full responsibility for all crew and materials into account, shall care for the yacht as his own and remain liable for damages that he or the rest of the passengers may cause to the yacht, her equipment or inventory.
Skipper is responsible for all damages caused while sailing, motoring, anchoring, mooring and maneuvering the yacht on condition that such are attributed to his own acts or omissions either willful or negligent.